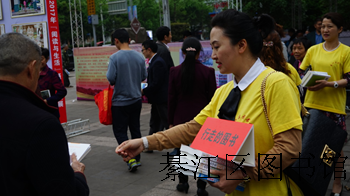 World reading day, during the qijiang count area in Kowloon plaza "I pay for you to read,", "walking book", "reading and life" exhibition, excellent publications huimin book fair, public cultural service protection propaganda and civilized city create a five-day series such as promotion activities, are very popular with people.
"I pay for you to read," is to forward library function to the active site, the citizens to book exhibition selected favorite book, as long as issued by choosing books at the bookseller credentials, take id card can borrow formalities on the spot, don't spend a penny can choose borrow two good book. Walnut bay community of the old readers hsiu-hua wang said: "the return readers book purchasing power is very good, I can choose to, in the first time to borrow, read book, good books and books. Hope that will be rolled out this practice, always insist on". Over the past few days, more than 100 readers have been checking out books at the site.
"Walking books" is a cultural benefit of the book. Wearing yellow t-shirts t-shirts of workers took to the streets, to more than 200 copies, keeping in good health, food, and children's literature for free gift a strong interest in reading public, encourage people to put down the phone, took the book, reading experience knowledge, the feeling of the body and mind.
Excellent publications huimin book fair by xinhua bookstore of the qijiang count and mailed in group the qijiang count branch of two booksellers to provide more than 50000 books to the scene, discounts for citizen choose and buy, booster "I pay for you to read," library purchase campaigns.
In recent years, the "reading and life photography exhibition" shows a nearly 100 photographic works that have read happy moments in recent years, inspiring interest in reading and attracting a lot of people to appreciate it.
Now Abby still issue become effective as of March 1, the protection of public cultural services of the People's Republic of China "singles over two hundred copies, publicity single copies of" advocating a "regard" read, create a civilized city "thousands of publicity materials.